Requirements:

Club Level Handgun Qualification
22 Calibre Pistol or Revolver.
Centrefire Pistol or Revolver (optional)
When: The shoot will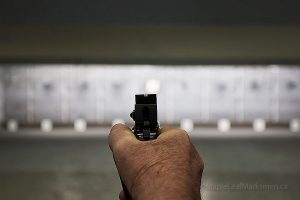 begin at 7:00 PM on Monday evenings. From January to end of November.  There will be no shoot on Holiday Mondays.
Where:  The shoot will take place in the indoor range from mid-September through to mid-May. From mid-May to mid-September the shoot will take place on the outdoor range unless, weather dictates it be moved indoors.
Cost:  $2.00 per shooter for small Bore Shoot only. $3.00 per shooter for both Small Bore & Centrefire Shoots
How:  There will be two categories of shoots, Scored Accuracy and Head to Head Shootout.
The Scored Accuracy shoot will consist of three stages

Timed Shoot – A single exposure of 10 minutes during which the shooter will fire 10 rounds at a No. 63 target. Possible 100 pts.
20 Second Timed Fire – A Series of two 20 second exposures in which 10 rounds will be fired at a No. 64 target, 5 rounds per exposure. Possible 100 pts.
10 Second Rapid Fire – A Series of two 10 second exposures in which 10 rounds will be fired at a No. 64 target, 5 rounds per exposure. Possible 100 pts.
Small Bore will fire three stages each week.
Centre fire will fire 1 stage each week and rotate through the 3 disciplines.
Note:  A period of 10-20 seconds (may be increased if a revolver is on the line) between exposures will be provided. During this time shooters will change magazines for the next exposure. In the event a shooter experiences difficulty during the shoot i.e. misfire, one additional exposure may be granted during the 20 & 10 sec shoots, at the discretion of the RSO.
The Head to Head Shootout (22 Cal only) will consist of a Double Elimination Pin

Each shooter will have two magazines with 5 rounds each to shoot down 6 targets
The first shooter to knock all their targets down will advance to the next round.
The losing shooter will drop into the second chance bracket.
If neither shooter knocks all their targets the shooter with the fewest remaining targets advances.
If any shooter hits the target stand and knocks a target off, that shooter is disqualified from the round.
In the event that a tie is declared (both shooters knock all their targets off at approx. the same time and the judge rules it a tie) the shooter who has the most remaining rounds in their pistol shall be declared the winner and advance.
Prizes:  
Prizes will be awarded at the year-end Party to the following: Average prizes must go to different shooters
Overall Average (Small Bore & Centrefire)
Top 10 Average (Small Bore & Centrefire)
Slow Fire Average
Timed Fire Average
Rapid Fire Average
Most Improved
Pin Shoot Champion
Prizes will consist of shooting merchandise i.e. gift certificates, club merchandise and other items as determined by shoot organizer.
To qualify for prizes a shooter must
Compete in a minimum of 12 accuracy shoots (36 targets) through the year.
Centrefire must have a minimum of 4 targets for each discipline (12 total targets) through the year.
Pin Shoot Champion will be determined by number of pin shoots won through the year.
Notes:
Only shoots completed on Monday Nights will be scored this is intended to create an equal playing field for all competitors and develop group cohesion and not a means of exclusion.
In the event there are a large number of shooters a second set of relays will be conducted for the accuracy shoots.
Double Elimination Pin shoots will be limited to 10 shooters.  In the event more than 10 shooters participate the format will change to single elimination.
Recent Results:
2017 Final Standings Small Bore Pistol Shoot