Tuesday Evening Rifle Program
Maple Leaf has a long history of success in competitive rifle shooting. One of the club founders, Jack Clinton, coached the Canadian team for a number of years including at the Olympic Games. There are many current and former members of the club who represented the club both in Canada and internationally, some of whom you will run into at the Sunday morning fun shoot each week. The Tuesday evening program as the legacy of Maple Leaf's earlier successes, provides a program based on (ISSF) International Shooting Sport Federation disciplines and rules to hopefully develop the next generation of competitive shooters.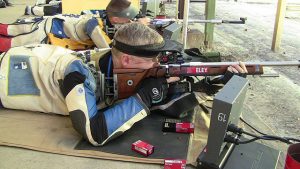 We provide coaching and competition in a casual, friendly and safety oriented atmosphere.
Disciplines
Sporting Rifle
Match Rifle
Air Rifle
Program
Weekly practice sessions. Prone, Kneeling and Standing positions.
Regular coaching
Junior (SFC) Shooting Federation of Canada (CTS) competition
Monthly ONTarget sponsored Lakeshore League postal matches.
Preparation for other competitions local, provincial, national and international both postal and on site for those who would like to pursue the sport of competitive rifle shooting.
We recommend that those interested in learning about formal competitive shooting come out on a Tuesday evening. No need to bring a rifle as we bring loaner rifles to the club each week so that new shooters can try it out. We recommend that you wait until you understand the various disciplines before purchasing. Target rifles can be both inexpensive or very expensive just like any other sporting equipment. But the advantage is that if you choose the right one, it will last a lifetime. For example: Air Rifle is becoming very popular in Canada and around the world and can take you to the highest levels of international competition inexpensively.