8/9/20 – Effective immediately, all club events can resume.  This includes, but is not limited to, all black powder events, the Polar Bear shoot, holiday shotgun and bullseye pistol.  The wearing of masks and social distancing rules are as required by government.
5/24/2020 –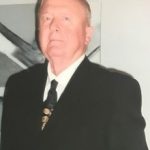 MLM member Bart Eubank passed away on May 21st.  Though Bart's passing was not unexpected, he will be missed by many.  https://www.legacy.com/obituaries/thespec/obituary.aspx?n=james-barton-eubank&pid=196240379
5/19/2020 – The club has re-opened for casual use.  You are reminded that the club is NOT providing extra cleaning or sanitizing, and that use is at the discretion of the individual.
5/11/2020 – we've added an "It's Time to Take Action" page to our website to ask members to get involved in the fight to retain our property and to keep our sport and our club thriving. The link to this page is found on the main (Welcome) page.
4/18/2020 –  It is with great sadness that we announce the passing of Mr. Steve Turner.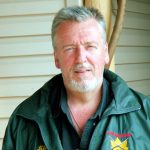 Steve was a very active member of Maple Leaf Marksmen Club for over 40 years, he was also our Treasurer / Membership Chair person for over 30 years. He will be truly missed by all his shooting friends within Mapleleaf and the Sporting Clubs of Niagara.
Our condolences to the Turner family.
Rest in Peace, Steve. You will be missed by many.
3/25/2020 – the club is CLOSED until further notice. We will open again as soon as we are allowed to do so.  Please stay at home and stay safe.
3/17/2020 – based on general advice from the Province of Ontario and regional health officials,  the Sunday morning Polar Bear shoot, Monday night pistol shoot and the Tuesday night rifle shoot are cancelled until further notice.  As well, the kitchen is closed. We will continue to watch for guidance from the health authorities and will resume normal operations as soon as possible.   In the meantime, both ranges remain open for casual use.

2/23/2020 – the New Member Checklist has been added to the Safety, Training page here. The last page contains a very good checklist for range shutdown.  Feel free to download and print.
2/5/2020 – The Club Rules and Regulations as well as Club Policies have been updated.  Printed copies are available in the clubhouse or printable copies can be downloaded HERE.
1/21/2020 – A small group of volunteers from our club spent a few hours sorting bottles in a warehouse in Beamsville for Community Care West Niagara.  Wineries donate bottles to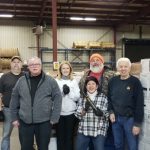 CCWN which must be sorted and returned to the Beer Store for refund.  The bottle refund revenue is a huge help in funding Community Care's important programs.  Thanks to Debbie G., Jim M., Joe T., John K., Kathie T., and Mike D.  If you're able to give a few hours of your time to this worthwhile cause, please email Joe at treasurer@mapleleafmarksmen.ca for details .  You might even  have a few laughs!
1/18/2020 – We are accepting new members again. The procedure has changed a lot and the New Member Committee is confident that new members will be better trained through sessions that will have less impact on club events.
1/11/2020 – Tickets are available for our Annual Awards Luncheon on January 26th.  Cost is $5 for members and $15 for non-members.  Please see Debbie Goforth or Don Smith for tickets.
12/05/19 – We exceeded our $1,000 goal in addition to the merchandise we were able to collect for this year's donation. Debbie and her small team of elves did the delivery today to Community Care West Niagara and the Lincoln County Humane Society who each gratefully received $667.50 in addition to all the goodies.  THANK YOU, everyone, for your generosity!
11/13/19 – Once again, Debbie Goforth has generously decided to prepare a Christmas turkey dinner with all the fixin's at the club in support of Community Care West Niagara and the Lincoln County Humane Society.  Tea, coffee and dessert included.
Date: Nov 24 2019
Time: 12:00pm
Where: Clubhouse
Tickets: $5 (entire ticket cost will be donated)
Your donations appreciated:

For Kids – new unwrapped toys for any age
For Animals – food, toys and especially blankets
Due to the size of our clubhouse, only 40 tickets will be available.  Please see Debbie during regular kitchen hours to purchase.
11/12/19 – on behalf of our club, Debbie Goforth is collecting donations for Community Care West Niagara and the Lincoln County Humane Society.  Bins are located in the clubhouse.  Food, toy and blankets for the animals and cash or items from CCWN's Most Needed List would be greatly appreciated.  Though welcome at any time, CCWN would really appreciate our donations before December 6th so our items  can be included in their Christmas box program.  Please give generously and let's show the world that gun owners are sharing and caring people!
10/31/19 – effective November 1st, we will be accepting membership renewals.  Member dues are unchanged from last year.  You can find the green renewal form on the wall in the clubhouse or on our website here.  Please give your completed renewal and payment to any member of the Membership  committee:  Wendy Barnes, Norm Botts, Mike Gettler, Mike Stratton or Steve Turner before December 31st to avoid the $25 late fee.
10/17/19 – Sadly, Fritz Steele passed away on October 16, 2019. Though his passing was not unexpected, an avid black powder guy, Fritz will be missed by anyone who met him. ? RIP Fritz. Our condolences to his family and friends.
9/22/19 – At a special meeting of the members, new club bylaws were voted on and passed.
9/7/19 – Please check your mailbox or email for a special meeting notice to consider changes to the club bylaws.  The  special meeting is scheduled for Sunday September 22, 2019  in the clubhouse right after the Polar Bear shoot.
9/4/19 – Once again, we've received a note of appreciation for our donation to Shoot For Abbi.  This year, the Cystinosis Research Foundation received an additional 38% from this important event.  Mark your calendars.  Next year's event is on July 11, 2020.
04/21/19 – Don't forget! Our annual work party is on May 25, 2019.  Cleanup commences at 8:00 a.m. and will conclude around noon.  If you can assist, please sign up on the Notice
posted in the Club House.    Thanks to Jeff L for once again organizing this important event.
The Annual Club Barbeque (Pig Roast) follows the work party in the afternoon.  Tickets are $5.00 for Club members and $10.00 for guests.  Provide your own beverages. Please
see Norm Botts for tickets.
04/20/19 – Just a reminder that the May General Meeting of Members will be held in the clubhouse on May 5th 2019 at 11:00. It's a great opportunity to be heard and to vote on issues and ideas that can affect your membership.
03/11/19 – Starting with the Spring 2019 Club Newsletter, all newsletters will be added to the website. You can find them on the Club Newsletter page in the Members section.
12/28/18 – An updated version of the Club Rules and Regulations is here in the website.  Since additional changes may be forthcoming, printed copies, normally available in the clubhouse, won't be changed until the rules have stabilized.
12/27/18 – the new rules for the Monday Night Pistol Shoot have been posted here .  Included this year is a revolver segment .. because wheel guns are very cool.
12/17/18 – The Monday Night Pistol Shoot is done for another year.  Congrats to the winners and a big thanks to Stan Martin for organizing such a great event.  Final results for 2018 can be found at the bottom of the event page here.
12/6/18 – For the Christmas season this year, Maple Leaf Marksmen is contributing to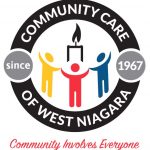 Community Care of West Niagara.  Please, members, give generously.  Bins are in the clubhouse to accept your contributions and a list of most needed items is there too.  And cash donations are always welcome.   Get your donations in soon.  Debbie is hoping to deliver to CCWN the week of December 9th.
Thank you to Community Care of West Niagara for all you do in our town.
11/23/18 – Sadly, Bob LeGrand has passed away after a brief illness.
A member of Maple Leaf Marksmen Gun Club since 2001 passed away on Friday November 23, 2018.  Bob was an avid Black Powder shooter and a good Friend to all that knew him.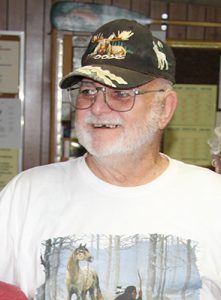 His nickname was "Dry ball" and his t-shirt had "powder-patch-ball" on it as he often missed loading the powder when he got talking.
We held Bob's 80th Birthday party at our MLM clubhouse a few years ago.  Bob was a long time member of the Rose Moon Rendezvous Group along with some other MLM Members who have passed away (Del Eberly—Jim Holman and Tony Blaikie).  Also a long time Member of Niagara Arms Club and Member/ Director of TSCON (The Sporting Clubs of Niagara) along with his Wife Verna and helped out at all the Merritton Gun shows for many years.
Bob was also an accomplished leather worker and great lover of horses.
Our thoughts and prayers go out to Verna and Family. He will be sadly missed!  (ST)
The service for Bob will be on Friday Nov 30th at 10:00 am at Lampman Funeral Home, 724 Canboro Rd Fenwick. There will be a get together following the service at the First Presbyterian Church….corner of Cream St and Metler Rd.
10/31/18 – per Board motion, some of our rules have changed.  Please familiarize yourself with the new rules HERE.  As well, we now require all members and guests to sign a waiver.  It is a MANDATORY condition of membership.  You can find the waiver HERE.
10/10/18 – our main webpage has been updated to include some words about The Sporting Clubs of Niagara's efforts to inform electors of candidates who are considered friends or foe of the firearms community.
9/15/18 – thank you, everyone, for a great open house and fun shoot!  Feedback from the public has been great, and we may have made a few new friends in the neighborhood.  Thank you to all our sponsors!  And a special thanks to NAS Guns and Ammo for their extreme generosity.  Members, please consider NAS for all your firearm shopping needs. And lastly, huge thanks to Norm Collins, the event coordinator, for making it all come together.    
Great job Norm!  (photo contact sheets from the event can be found HERE.  The  volunteer survey can be found HERE.)

9/9/18 – the Club Rules and Regulation have been updated and are not on the Rules and Regulations page.  Printed (blue) copies will appear in the club house in the very near future.  Some of the change updates include the new lane restrictions, outdoor shooting day now ends at sunset as opposed to dusk,  the "permitted ammo on Sunday" rule further clarifies what is allowed, the late renewal fee has been added to the member Dues section, and other changes.
9/2/18 – per Board motion, we'll resume accepting new members on September 15.  The new member procedure is largely unchanged with the addition of a club rules quiz that will be administered after completion of the 6 supervised shoots.
8/30/18 – Tony Blaikie passed away August 29th at age 84 in the St. Catharines General Hospital.
Tony retired from "The Standard" as General Manager. He worked there from 1956 to 2005.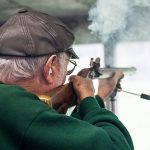 Having a long history of Black Powder shooting, Tony joined Maple Leaf Marksmen in 1993 (25 years)
Always willing to help out the black powder shooters.
We will miss Tony and his vast knowledge and great stories!
Our condolences to Mary and his Family.
Here is a link to Tony's obituary.  A memorial donation has been made on behalf of the club.  (ST)
8/12/18 – Jacketed ammunition is now permitted on positions 1 through 9 using handgun only.  Centerfire rifle must only be shot from the 70 yard cross range bench position.   As per our rules, please ensure that all projectiles are impacting the backstop.  When setting up target frames closer than 50 yards, please use the appropriate height holders, again ensuring all projectiles are impacting the backstop.
8/4/18 – a new section has been added to the ARTICLES page called SHOOTING PROFICIENCY.  It features articles written by our own Andre ( Graywolf ) Reed and published nationally many years ago.  Though much of it is black powder specific, there's some great theory and tips to help anyone become a better shooter. Check back often as more documents are being added.
8/3/18 – The August Director's Meeting scheduled for Sunday August 5th has been moved because of the holiday to Tuesday August 7th, 6:30 pm at John's.
7/3/18 – Effective immediately and until further notice, outdoor range positions 1-9 and the cross range position are temporarily closed for backstop evaluation and improvements. This means that jacketed ammunition can not be fired at the club for now. You will be advised, here and by email, when the situation changes.  ****NOTE: 8/1/18 backstop improvements are complete. All lanes are open again but jacketed ammo is only permitted from the crossrange position. ****
5/24/18 – John Rytzyck from Pinecrest has passed away. He was 87 years old. John was a long time member of the Pinecrest Gun club and until a short time ago ran The Saturday afternoon handgun shoots at Maple Leaf Marksmen. Always brought a treat up for the shooters beforehand.
He will be missed.  (ST)

5/22/18 – Please don't forget the 3rd Annual Shoot For Abbi at Decew Gun Club on Saturday July 7th at 10:00am.  The event poster is here. And the registration page for the event is here.
4/11/18 – report added to the ARTICLES page about using lead-free ammunition
4/5/18 –  We have sad news to report.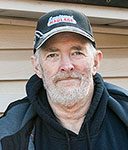 Herb Wismer passed away today in hospital.
Herb was a dedicated member of the MLM Club and was heavily involved in the day to day operation of the club in his role as Treasurer.  Herb also served as a Director for many years and looked after the clubs grass cutting and snow removal needs.
Herb will be sorely missed at the club.
Our condolences to his wife Penny and the rest of his family.
Funeral arrangement information is not available at this time.  (ST)

4/1/18 – a link has been added to the REGULATORY section of the ARTICLES page for the Royal Canadian Mounted Police – 2016 Commissioner of Firearms report
3/25/18 – The CSSA's AGM and annual "Stick to Your Guns" dinner is being held here in St. Catharines this year on Saturday April 14th at the Holiday Inn Suites, 327 Ontario St. Please consider attending to represent our Club and to support the CSSA during these difficult political times.  Email news@mapleleafmarksmen.ca or see the Club newsletter dated March 20th for details. Please Note:  Our tables are now SOLD OUT.
3/5/18 – The date has been announced for the Annual Work Party and Pig Roast.  This year's event is on Saturday May 26th.  (See the calendar for details)  Please come out to help keep our facility in tip top shape, and then stay for the pig roast.  Or if unable to help in the daytime, come to socialize in the evening.  See Jeff Leyland and Herb Wismer for Work Party details, and see Dave Goodman to help with the pig roast or in the kitchen.
2/9/18 – don't forget to sign up for the upcoming ARGO basic first aid course held on Saturday February 24th and tailored to gun owners. We're fortunate to have access to this top drawer course, especially at such a great price. Please contact Debbie Harper via the contact info in the email, or by contacting info@mapleleafmarksmen.ca for more information.  The deadline is approaching.  We all owe it to each other to have this type of training onsite.
2/6/18 – added the Polar Bear champion list (dating back to 1992) to the Polar Bear Fun Shoot page.
1/28/18 – the following awards were presented at the 2017 Awards Luncheon
| | |
| --- | --- |
| Black Powder Horn – Norm Botts | |
| Polar Bear – Chuck Cressey | |
| Teddy Bear -Debbie Harper | |
| Black Powder Shotgun – 1st Place – André Reed | |
| Black Powder Shotgun – 2nd place – (tie) Mark Johnson and Lorie Hetherington | |
1/20/18 – event added to the club calendar for Black Powder Blanket Match on Saturday April 28th.  Details regarding this event can be found HERE
1/10/18 – updated Rules and Regulations are now available on the Rules and Regulations page
12/21/17 – Arrangements are complete for this year's Annual Awards Luncheon.  It will be held at the Blue Star Restaurant, 676 King St in Welland on Sunday January 28th at 2:00pm.  Tickets are $5 for active members and $15 for others. All members welcome! More details are available HERE.  See Norm B to purchase your tickets.
12/21/17 – Time is running out to pay 2018 member dues!  Please see Wendy or Herb as soon as possible to avoid loss of club privileges.
12/16/17 – Black Powder Fowler Shoot for 2018 has been added to the calendar (standard shotguns also welcome)
12/12/17 – A reminder that the Small Bore Pistol Shoot Monday night group is having their annual potluck on Monday December 18th at 6:00pm in the Clubhouse.  All are welcome!
12/3/17 – Annual General Meeting was held. Congrats to Wendy, Steve and Phil on their new roles; John, Don S, Chuck, Marko, Herb , Dave and Don N were returned to their existing roles.  Noteworthy rules changes involved a reduction in the Polar Bear entry fee and an increase in allowable magazine capacity
11/28/17 – added Small Bore Pistol Shoot final standings and prize winners to Small Bore Pistol Shoot page.  Thanks to Stan for organizing and to all who participated. A great success!
11/26/17 –  On Saturday December 2nd the indoor range will be closed from 11 am – 3 pm for RSO training.  Also the clubhouse will be in use on Saturday morning from 8am -11am for the classroom portion of the RSO course.  Please keep your activities in the clubhouse while signing in and using the kitchen down to a dull roar in the morning.
On the same day at John Kellaway's the MLM club has arranged for ARGO first aid training, there are three spots available for any MLM members that are interested in attending, See below and contact John Kellaway to reserve a spot. Cost is $75.00
11/14/17 – Added information to the Club Activities, Other Activities and Events page about the CSSA Target competition.
10/29/17 – the November 5 2017 Director's Meeting has been cancelled
10/24/17 – Dues are now being accepted for 2018.  The 2018 Membership Renewal forms must be completed in full by everyone renewing. This year, the form can be completed online, printed at home, signed in pen and delivered or mailed with your payment to our Treasurer, Herb W.
10/16/17 – part of a three month trial, member keys now open the indoor range. (Some have reported they need to 'jiggle' their key to make it work. Be persistent!)
9/19/17 – The Niagara Regional Sportsmen Club is organizing a Range Safety Officer course. Anyone who is interested in taking the course please contact Norm Collins for more details on dates and times at njc59@hotmail.com Cost is $45. Note: This course is not being sponsored by The Maple Leaf Marksmen Club
9/2/17 – Indoor range closed Wednesday Sept. 6 for maintenance.