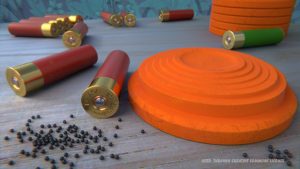 While the primary focus at Maple Leaf Marksmen is target shooting, there is a loyal group who enjoy shooting clays at the range every month.
Monthly shotgun shoots are held on the holidays that occur in the month. If there is no Holiday in the month, the shoot is held on a Saturday (see club calendar). These shoots are for fun. No scoring is done.
A ball draw determines shoot order on shotgun day as shooters come and go all day long.  Two electronic throwers and one manual thrower can be used.
There is also a Black Powder Shotgun Shoot every 3rd Tuesday of the month which is a scored competition. Non-Black Powder Shotgun shooters (modern shotguns) are welcome to participate but will not be scored.  The cost to shoot on Black Powder Shotgun Day is $5, to cover the cost of the clays.
The Rules
Everyone must shoot from the shotgun shooting platform. One at a time.
Shotgun gauges from .410 (smallest) through to 12 gauge (largest) are permitted
Any shotgun ammunition including Black Powder is allowed as long as the shot size is not larger than 7.5. No slugs are allowed for clay shooting.
The Cost
The cost to shoot on a regular Monthly or Holiday Shotgun Day is $10, to cover the cost of the clays.