The club was started in 1936 by the Harrison family.  The first range they shot in was above the Labour Temple in St. Catharines.  From there, they located in what was known as Savigny's Quarry.  After a few years, they started a shooting complex on Masterson's Farm in West St. Catharines in the Glenridge area.  The last place prior to the present location was in one of the old locks of the original Welland Canal located on Ontario Street between Port Dalhousie and the QEW highway..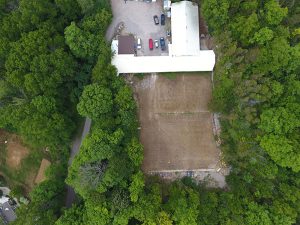 In 1956, the members bought their present location from the Township of Louth.  It is an old quarry which was quarried during the depression and was no longer used.  It is an area of about three acres.  At the time of purchase, there was no driveway up to the range as it was quarried out of the side of the escarpment, so a set of steps was built for access to the range.  Eventually, a driveway was cut out of the side of the hill.
The club was the first in Ontario to have a covered roof.  The original clubhouse was used as an indoor range by shooting through small openings in the front wall to a distance of 20 yards. Nowadays, the clubhouse is strictly for socializing, with a kitchen and a deck extension for BBQing.
Outdoors, there are 30 shooting positions at 20 and 50 yards and metres. The outdoor roof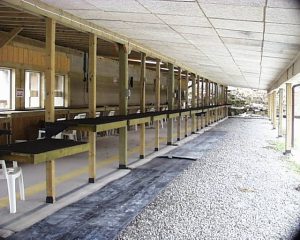 has been rebuilt to extend 20 feet to the front with an 18 inch drop at the front.  The roof is built like a box and filled with 3/4 inch stone.  When you are standing, you cannot get a shot to leave the range as the backstop wall is 23 feet high and you cannot see the top of the wall.
The 10 position, 60 foot indoor range was built in 1968.  This gives the club 12 months a year shooting at both 10 metres and 20 yards.
Hundreds of loads of earth were donated by the Township and this enabled us to plant grass and to extend the parking lot.
Over the years the club has held many Trials for Olympics and other World Class competitions, including the National Championships.
Here are some photos believed to be from the mid-1950's.
Would the gentleman who visited the club in early January 2018 and inspired the creation of this gallery ("I was a member 65 years ago!"), please contact Ryan webmaster@MapleLeafMarksmen.ca. We love to hear more of your memories of the club from the early years.
[Best_Wordpress_Gallery id="22″ gal_title="History"]